California photos
All photos are copyright by Evan Ravitz and for sale. Nonprofit use of these small images is free if credit is given. Email: evan (at) vote.org
I got a job programming computers at UCLA Medical Center in 1973. The first place I lived was Woodland Hills. My neighbor Penny.
These green suculents are common Southern California landscaping.
I moved to the bizarre McCoy Ranch north of Malibu where I lived in a commune in my tipi.
Not far from the ranch was a 150' waterfall with caves and pools at the top. I installed a 4'X8' sheet of plywood and camped out.
The moon reflected in the pool in the cave.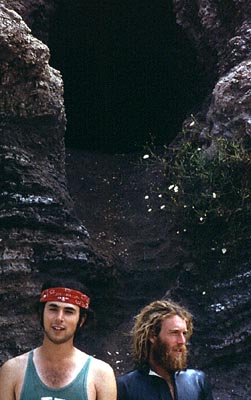 My buddies Govinda, a guitarist and Scott, a surfer who grew up in Malibu across the street from Bob Dylan's place.
Sunset over the Pacific.
After old man McCoy booted out the commune, I moved my tipi to Topanga Canyon, where my neighbors lived in this trailer and slept outside under the huge live oaks.
View from the Moonfire Temple on the ridge high above the canyon. Louis had quite a menagerie up here, including a camel.
The Topanga Days Celebration.
These are at the Venice Canal Festival. Fabulous!
I left L.A. in December 1974. I came back for a visit in 1984. An interesting cave formation in Silicon Valley.
Travertine Hot Springs by the travertine quarry behind the Ranger Station South of Bridgeport on US 395, with a view of the Sierra Nevada to the West.
The hot water comes out of the top of this ridge and is channeled into several pools of different temperatures.
A Norwegian-style house near Mamoth.
Yosemite valley
Echo Lake in Yosemite.
I think this is Bridal Veil Falls.
You can view, search and comment on my and others' photos at Flickr, the best new thing on the internet:
Don't forget to visit the fabled Vote.org!