All photos are copyright by Evan Ravitz and for sale. Nonprofit use of these small images is free if credit is given. All inquiries: evan@vote.org or (303)440-6838
All these photos are in the Sierra Madre Oriental "Eastern Mother Mountains" of Northeast Mexico.
The first 3 are in Tamasopo, a famed vacation area:
Several times I took the train from Juarez to Irapuato, whence I bicycled to San Miguel de Allende. This is a strangely beautiful erosion scene:
Shadow of a shrine I camped in on the way..
The next 2 are in San Miguel at a gorgeous outdoor eatery at Los Chorros:
In San Miguel I joined up with cyclists Claus Fuger from Germany and Charles Haddy of England. Here's Claus: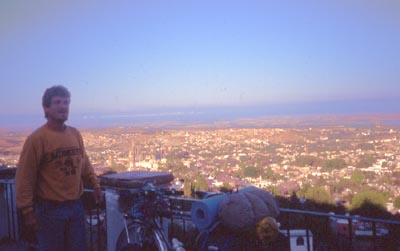 We took off for the East. The photographer meditating:
The photographer's bike and gear:
We descend into Tolontango gorge wherein are the famous Grutas of Tolantango:
The entrance to the cavern is below right. The water is very warm, with several waterfalls at the entrance and more deep inside:
Above the cavern is "La Gloria" -a wonderland of pools and falls between the canyon wall and the 2000' high slab peeling off the canyon wall: