The People of Urique, Chihuahua -in the bottom of Copper Canyon
All photos are copyright by Evan Ravitz and for sale. Nonprofit use of these small images is free if credit is given. Email: evan (at) vote.org
There's only space for two towns, Urique and Batopilas -each about 1000 people- in the bottoms of all the huge canyons in Chihuahua which are collectively and confusedly called "Copper Canyon" -which is actually just one part of one canyon, "Barranca Urique". Until recently the only way to Urique was by train to Bahuichivo and then a dizzying bus ride. Now a serious 4-wheeler can make it.
First I met some of the Urique musicians. Thomas Scharmen, on the right, an American, was the only foreigner living in Urique in 1985, when these photos were taken
heading for a party
These guys became my best friends for the 2 weeks or so I spent there. On the left is Cesar and on the right is Saul. Cesar was studying welding in Chihuahua City and back home for the Christmas holiday.
The full holiday gang
A typical small-town Abarrotes -"groceries." Further South in Mexico, a Tienda -"store."
Thomas told the town I was an entertainer -and the show was on:
Next came lessons in juggling and rope-walking.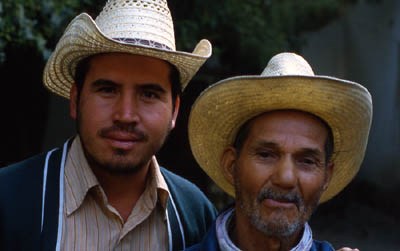 Everyone wanted photos, especially of the elders and the kids:
This is the local "naranjero" or orange-grower.
Picking oranges was serious monkey business.
Latin American streets are watered and swept every morning, at least.
This guy was one of the local champion runners. He'd been drinking Tesguino, the local sour beer made from corn.
He went to this house and started bargaining for some more tesguino.
He makes the payment...
...and drinks the tesguino. Often during their incredible 2-day 100-mile races in and out of these giant canyons, they eat and drink nothing except tesguino!
Here's that other canyon-bottom town, Batopilas, very long and narrow. The old Colonial silver-mining town is on the far side.
On the right is Micah True, a fellow Boulderite who lives in Batopilas in the wintery half of the year, and one of few outsiders to be invited to run in the Tarahumara races. He can guide you at any speed between Batopilas and Urique -a classic hike. See his website
The road to the mysterious Satevo:
The famous "No Smoking" sign at Margarita's, in Creel, the most popular hotel and hostel in all the state of Chihuahua. Fun!
Every (?) full moon there is an all-night dance at the missions. This is at Basihuare Mission. It's about 10 degrees Fahrenheit!
The waterfall at Cusarare, about 12 miles from Creel.
Crafts for sale at the waterfall. They make baskets out of pine needles.
Vote.org: voted #1 for the next President's agenda:
OnDayOne.org/ideas/democracy
Evan Ravitz, founder 303-440-6838 EvanRavitz.com


"Fool's gold exists because there is real gold." -Rumi