Colorado Springs & Pikes Peak photos
All photos are copyright by Evan Ravitz and for sale. Nonprofit use of these small images is free if credit is given. Email: evan (at) vote.org
Peter Gordon, my roomate at Colorado College 1971-2, dancing with Ed Hocker's dog Socrates.
Ed Hocker, who dropped out to become a mason and later a transportation planner.
Clyde Christiansen and Ed built a cabin on National Forest land near here.
Our dorm Slocum in the background
Peter on the left, longtime teacher and now business consultant.
At Garden of the Gods, where we learned to rock climb.
Peter's roomate Mike a couple of years later.
A Colorado College trip up La Plata peak
A sidewalk imitates the Sistine Chapel. Adam at left; God's face in the bit of light at upper right.
Taken from Almagre Mountain (12,367'), only sizeable companion to Pikes Peak (14,110')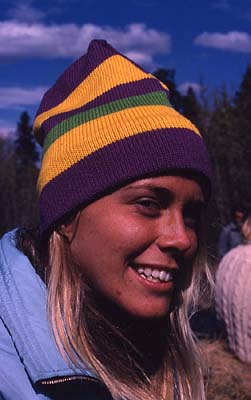 Anne
Aspen leaves
The Pikes Peak Highway
Hiking up the Highway in winter
Summit view
A typical Colorado College skier.
Tony Sokolow (left) with Sleaze Woman at the Demolition Derby.
Chuck Briggs, now an anthropology professor, with a girlfriend whose name escapes me.
Square dance
Dave Patz belaying a climber. He's now a doctor.
George, visiting Mesa Verde National Park
Ruth
On a camping trip for a class called "Zen Buddism and Quantum Mechanics."
This guy was a master potter.
The summer of '73 we started the Springs Artists Co-op in one of the oldest buildings in Colorado City, the original part of Colorado Springs.
That summer I lived under this plastic tarp in Artists Glen, with 2 kittens.
The Glen is below these giant rocks, at the foot of Cameron's Cone, here viewed from the Barr Trail, which is the classic route up Pikes Peak. The rocks are called Gog (upper) and Magog (lower).
In the Glen. Most of the sparse vegetation on the left slope of pink scree is wild anise. Sweet!
Columbine, the Colorado state flower.
Gog Rock is a giant castle of rock at about 8700' altitude. The huge top rock overhangs, allowing protected camping with a view down at Colorado Springs almost 3000' below. You can see the curvature of the earth.
Sandy. Her left arm points towards the stream at the bottom of the Glen, visible 600' below.
John Gilmore. He became one of the founders of Sun Microsystems, the Electronic Frontier Foundation, Cygnus Software, and DanceSafe. Incredible work, John!
The kittens moved to the Glen very young. It was very hard to carry them out at the end of the summer!
In Manitou Springs at the foot of the Pike National Forest.
You can view, search and comment on my and others' photos at Flickr, the best new thing on the internet:
Don't forget to visit the fabled Vote.org!